His name is Selwyn Senatori, a great artist, a mix of style and class 50% Italy & 50% Holland. Great paintings, street art meets pop? Well, he's cool, talented and he got personality that express on every surface, check some of the works.
www.selwyn.nl
If you are planning a trip to Amsterdam, (with station at your back go 50 meters left from Dam Square - Dam Central 21) visit his atelier and buy some very good stuff.
Selwyn rocks.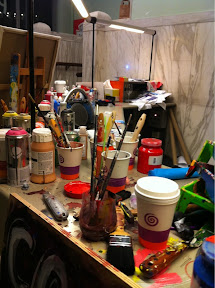 Check his facebook too, Selwyn Senatori.
Bless.
www.ahistoryofstyle.com
Location:Amsterdam